Post by lewiswilkinson on Jan 22, 2009 17:39:32 GMT 1
Long story...
I recently bought a MK2 Golf GTi 16v with no MOT...
Went through the MOT needing just a bulb, i was pretty chuffed.
5 door, helious, in above average condition.
Ive done 500 odd miles in it since i got it a couple of weeks ago...
So imagine the scene:
I've done 500 miles in it since i had it and was happily cruising up the M5 at about 80-85 towards bristol (also pleased that i had just knocked it over 212,600 - yes 212,600) when the coolant warning light comes on. I decide not to worry as its been dicking around for quite a while.
Noticed the temp guage starting to creep up and it got to 3/4's of the way so i stopped on the hard shoulder, opened the bonnet, and even at 8:00pm at night i could still see and feel the substantial amount of water and steam that was gushing from somewhere near the oil filter. Happily, it turns out it was just a small flared peice of hose from the water pump to where its plumbed in with metal. Much gaffa tape and swearing and i filled the car up with water and carried on my way.
15 miles down the road and the even more smug 'ive-just-fixed-my-car-at-the-side-of-the-road' grimace started to wear off as the temp guage started creeping more quickly this time. Pulled over again and decided enough was enough and to call the AA.
I was knocked back once again when upon phoning the AA that my cover had lapsed, but i could take out new cover, but with a £100 convenience fee.
Sitting by the side of the road i was thinking what to do when the traffic wombles turned up and proceeded to shout at me a bit, and then inform me i had half an hour to move the car or they would charge me £140 for the privellege of towing it to the next junction and off the motorway...
I eventually convinced them to tow me off for free and they dumped me in a layby. At this point we realised one of my passengers' parents had AA, so we phoned them and they (suprisingly) gladly drove an hour and a half to come rescue us. When they arrived we called the AA and with the help of the AA man we managed to re route the pipes past the leaking one (which no replacement parts could be found, or bodges could fix) but alas, there were too many pipes to bodge, and too much re reouting.
At this point, the parents of one passengers (who called the AA for us) drove the two i was giving a lift to bristol, back down to back to falmouth, to leave me an my housemate Jess stranded in Weston Super-Mare. AA man (lets call him John) kindly towed me to a VW dealer where we dumped the car on the forecourt (literally) in front of the entrance to Heritage VW of Bristol leaking water, absolutely filthy and looking in a sorry state of repair.
At this point it was time to clutch at straws as it was getting late and we had no where to sleep, so we phoned another house-mates parents who live in Weston, and they kindly gave us soup and a warm place to sleep for the night.
The next morning, got back to Heritage VW and requested said pipe, which miraculously they had in and fitted. Drew quite a crowd of VW dealers/specialists who were amazed at the star-ship mileage and the fact it was 'still in pretty good nick' and fired her up. Or not.
Shit.
Booster pack, borrowed from the VW garage and after a couple of times it roared into life!
JOY!
Round of applause from all watching, smugness returned. At this point i noticed some steam from the back which I thought was just because it was cold, and after all i had checked the oil for mayonaise last night, and the header tank was clean. As the idle got increasingly rough, and the smoke thicker, I feared the worst was true. Upon pulling the dipstick out I was greeted by the ferocious sight of a tan coloured gloop and the same under the oil filler.
Gutted
On te offchance i enquired to the cost of a head gasket replacement and VW would do it for me for £500, less 10% because 'the car was a trooper' or something, but i sadly declined.
As i write this, I am back in Falmouth, and 170 odd miles north in the centre of Bristol, sat next to the main entrance to the VW Heritage dealership building, covered in mud, dirt and bird crap, still oozing fluids is a rather dilapidated mk2 Golf GTi 16v.
************************************88
*****************************************
So...
Where I left off... The car was still in Weston-Super-Mare and I was in Falmouth.
Happily, i booked a train from Falmouth to Weston costing only £6.60 last Sunday to go back up. This, however, as you know, is public transport which i despise.
I boarded the train at 8:59 AM with a banging hangover (31st party - not mine :laugh: the night before) half expecting to be thrown up on by a mucus gurgling tramp, or to throw up myself. I sat close to the toilet.
3 changes, and an hour on the bus later i found myself outside Weston-Super-Mare station. Its now early evening and i kind of knew which way Heritage VW is so i start walking. I realised its quite a way, but was fair not going to pay for a taxi...
20 minutes walk up the bypass and i arrive at the garage: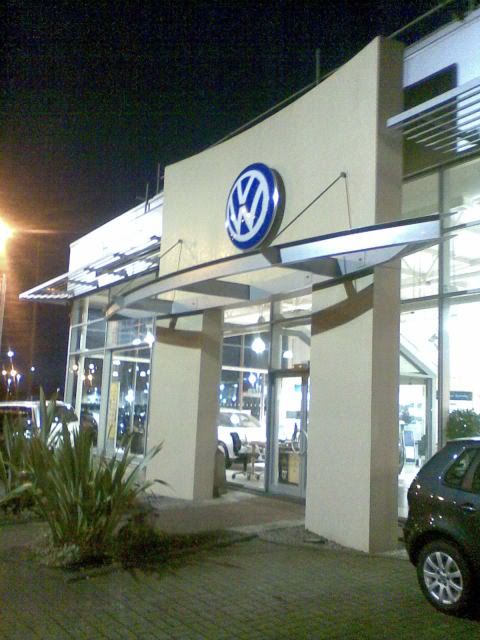 To find:
They hadnt cleaned it
, but they had moved it
An hour later, and Reg from the AA arrived, and before you knew it:
Reg = Legend.
He has spotted numerous UFO's and pretty much every pub we drove past was 'haunted'. His flatbed was limited to 54, but in 6th down the hills, clutch down he hit 67 and was pretty pleased to tell me that.
Recently turned 61, he bought himself an escort RS2000 and some 17's :laugh:
---------------------------------------------------------------------
So, got back to fal and Tom and I cracked on with the job.
Happily, it was deliciously easy to start with, but it got harder as the bolts got rustier and more inacessible. For some reason spark plug two is just spinning and not loosening, but we've left it for now as we only need #1 out for timing etc.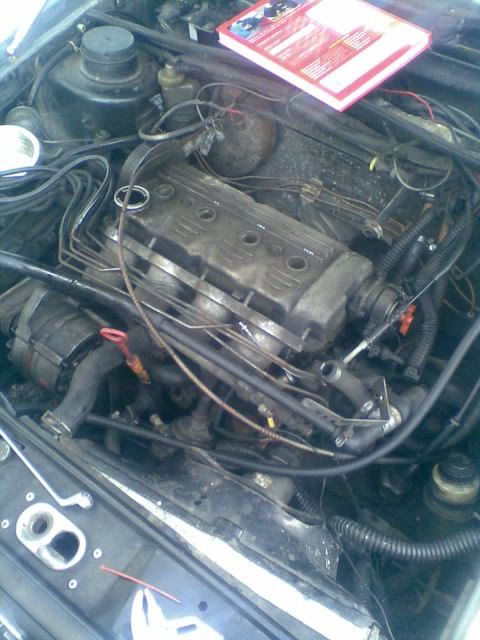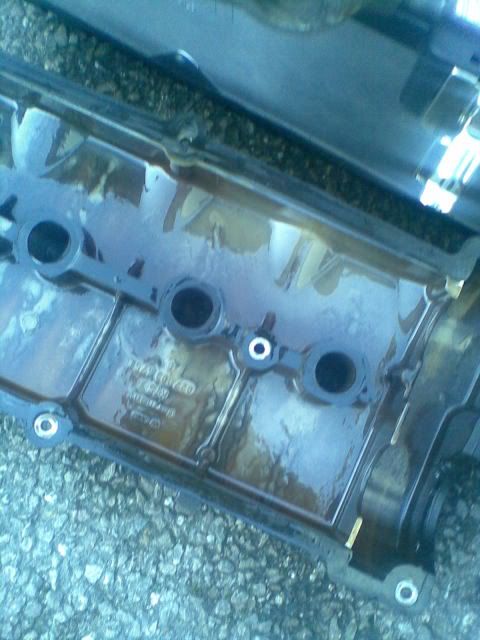 Tom:
Funnily enough:
Any ideas? :laugh:
******************************************************8
So.
Eventually got inlet manifold bolts off - phew so removed that fine. Spark plug two seems to just spin, but now the head is off i will investigate further.
HOWEVER!
The two underneath, inside bolts on the exhaust manni were too small for a 12mm, and too large for an 11mm and there was no room for hammering sockets etc. Tom and I decided we would unbolt it at the manifold--Downpipe join and sort it out when it was off, but it transpires that we both just have lumps of gammon instead of actual hands and couldnt get at those bolts...
YAY - Inlet off:
KerbSide Autos -
The result (MASSIVE ballache getting this off...) :
Think im gonna have to grind off the two inside bolts as 'benspeed' has meddled and they are completely rounded, then off to the 'head king' who seems very reasonable and all in a decent chap. If i cant get plug #2 out im sure (read I hope) he will find a way.
My lounge floor:
*Nervous 'what have i done' laugh..*